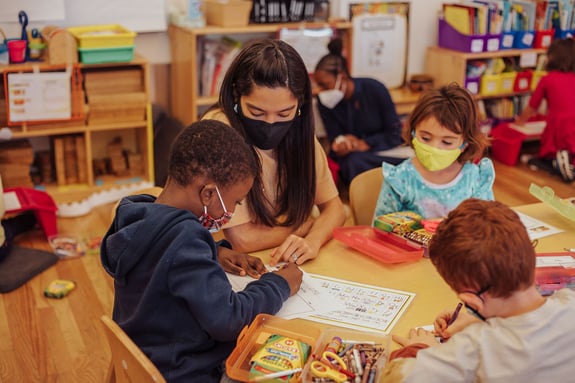 A school made just for young children
At Corlears School, kids build core values like compassion, responsibility, and empathy in an environment centered on social and emotional development.
OUR APPROACH
About Corlears School
Corlears School is a nonprofit, independent, progressive elementary school located in Chelsea, New York. In our five decades of experience, we've come to understand that these early years are the most crucial formative years for every child. We specialize in guiding this age group because we believe the start of your child's academic life should be nothing short of exceptional!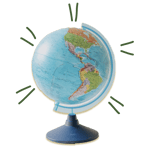 DIVERSITY
We celebrate each child's talents, learning styles, and identities in an atmosphere of trust and mutual respect.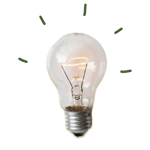 CURIOSITY
Project-based learning experiences encourage young minds to keep asking questions.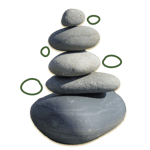 COMMUNITY
Our close-knit community is driven to make the world a better place — starting in our own backyard.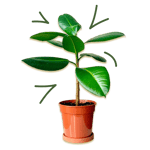 GROWTH
We're cultivating considerate, ever-evolving thinkers, ready to make a difference in their world.
50+
Years Teaching Young Children in NYC
3:1
Student:Teacher Ratio in Early Childhood
5:1
Student:Teacher Ratio in Elementary
54
%
Students of color in 2022–23
WHAT WE OFFER
Our Programs
Literacy, quantitative reasoning, scientific inquiry, problem-solving, artistic expression, social and emotional learning, and social justice are incorporated into every child's course of study, at every age.
TOUCH
16-24 Months
Toddler
Toddlers in our Roots program learn skills related to: language, math, science, art, and daily living, while also enhancing fine, gross motor, and sensory development. We offer Caregiver & Me and Gentle Separation classes.
TOUCH
Ages 2–4
Nursery & PreK
As they build relationships with other children and teachers in the classroom, students in the 2s–4s begin to see themselves as trusted and capable beings, which establishes a foundation of learning and confidence for everything to come.
TOUCH
Age 5
Kindergarten
Kindergartners are bubbling with new thoughts and ideas, and our teachers integrate social studies, science, math, art, and technology to foster a growing understanding of how everything in our world is interconnected.
TOUCH
1st-5th Grade
Elementary
With decades of experience in early years education, our Elementary program provides space for children in 1st through 5th grade to develop into young leaders ready to make a difference in their community.
Join the Corlears Community
Subscribe to learn more about the program at Corlears School and to receive important updates about admissions, campus visits, and other announcements.
WHO WE ARE
Core Values to Believe In
The core values at Corlears School are the guiding principles that shape how we communicate and collaborate as a community. By naming what we value, we are committing to what we believe is at the core of our school's mission.
We're building a school and a community where children learn to see things from multiple perspectives and think about diverse life experiences. With its values at the core, Corlears students cultivate curiosity about people, compassion for humanity, and grow to take responsibility and courageous actions to create communities of belonging.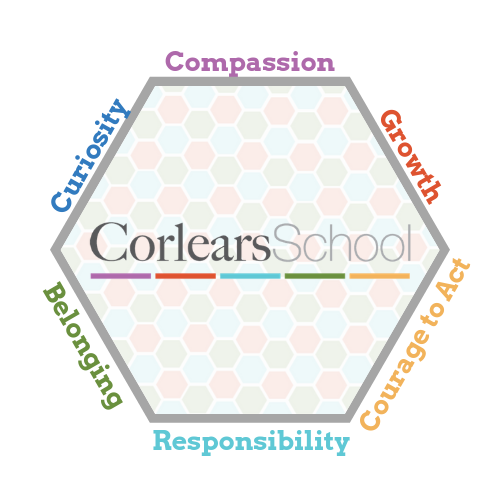 With the guidance of expert faculty working in partnership with our Assistant Head of School and Director of Equity and Inclusion, Corlears students develop positive identities, celebrate differences, advocate for justice, and take action.
Conversations about identity, race, and social justice are integrated into daily school life here; in our classrooms, in our play areas, at every community event, we aim to create a community of belonging.

TESTIMONIALS
Reviews from Corlears Families
"The small class size was excellent for our kindergartener. He is writing and reading (some) and always wants to go to school. A shy child, his self-confidence has grown. He has made great friends. The faculty and staff treasure their students and enjoy teaching. Bravo, Corlears!"
"My wife and I could not have been happier with the education our two daughters got at Corlears. They emerged as thinkers who love learning and even school itself (though they would never admit it). Corlears met each where they were at and maximized potential. [Our daughters] emerged confident and collaborative and went seamlessly into ongoing NYC private schools. They are now both admitted to their respective first choice colleges (UCLA and Northwestern). We would recommend Corlears unreservedly — it offers the highest quality community and education!"
"Corlears has been a great school for our son and our family. Our son has learned to be a flexible thinker which has helped him excel in all subjects, and especially math. The school also instills its students with a strong sense of self, as well as an understanding of their community-members and the world at large. The social justice curriculum is particularly impressive. And, we love the other families."
"Corlears is more than a school; it's a community of family and friends that considers equity and inclusion as core pieces to learning and the exchange of ideas and information. It has provided both my children with academic readiness, an understanding of collective responsibility, and the confidence to share and welcome solutions for 'why.'"
VISIT US
Located in the Heart of Chelsea
You can find us just steps away from the A/C/E, 1/2/3, L, and PATH trains.